---
Need Watersports Toys
or Boat Accessories?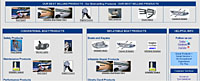 Mountain View Cottage
...for your perfect vacation
at Cultus Lake and the surrounding areas.
Newsletter Sign-up
Sign up for our periodic newsletter to stay connected about deals, special packages, coming events and more.
Sign up now!

Cultus Lake Waterslides
Cultus Lake Waterpark is the leader in the water slide and water park industry on the West Coast and is a cornerstone entertainment facility at Cultus Lake. Whether you are on vacation or just taking a much needed weekend holiday, or just getting away for a day, watersliding is a great recreational activity for the whole family.
They are a family oriented waterpark and waterslides and provide their guests with waterslide rides for all ages. And for the thrill seekers, they have some of the most extreme waterslides. With all of their great attractions and continued expansion, you need to go out and see for yourself why Cultus Lake Waterpark is BC's #1 waterpark.
Mountain View Cottage at Cultus Lake - Find Your Perfect Family Vacation in Cultus Lake, BC, Canada

All contents © All rights reserved. CultusLakeCottageRentals.com.
Reproduction in whole or in part without prior written consent is strictly prohibited.
All trademarks are property of their legal owner.
VisitingCultusLake.com | AllWakeboardProducts.com | CultusCottages.com | CultusLakeCottageRentals.com