---
Need Watersports Toys
or Boat Accessories?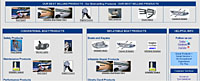 Mountain View Cottage
...for your perfect vacation
at Cultus Lake and the surrounding areas.
Newsletter Sign-up
Sign up for our periodic newsletter to stay connected about deals, special packages, coming events and more.
Sign up now!

Spa, Fitness and Healthy Living at Cultus Lake
There are several Spas are located in Chilliwack, just 15 minutes drive away from the Cottages at Cultus Lake (bus service also available in high season). Come to the resort, relax, and pamper yourself - you deserve it!
Undine's Retreat
#101 - 45935 Airport Road, Chilliwack, BC.
Tel: (604) 703-1344 or toll free 1-888-700-1344 | Email: info@undinesretreat.com | Brochure: Click here >>
Voted #1 spa for three years running. Offering a full range of treatments including Facial, Pedicure, Manicure, Signature Massage, Thai Herbal Stem Massage, Heated Stone Massage, Aromatherapy Treatment, Relaxation Massage, Therapeutic Massage, Reflexology, Full Body Polish, Skin-Softening Body Wrap, An Eminence Body Wrap Treatment, Body Bronzing, Face Massage, Spa Facial or Gentleman's Facial, Purity Facial, Retreat Facial, Signature Facial, Back Facial, Prelude Facial, Compu-Lift Treatment and many more >>



The Point Salon & Spa
#202 - 7592 Vedder Road (Canadian Tire Plaza), Sardis, BC
Tel: (604) 847-0535 | Brochure: Click here >>
The Point has been operating since 2004 and is a full service salon and spa located in the heart of Chilliwack, British Columbia.
We invite you to come in and relax & unwind. Services include: Aromatic Body Massage, Deep Tissue Massage, Hot Stone
Massage, Hawaiian Lomi Lomi Massage, Paraffin Treatment, Pregnancy Massage. Treatments include: Spa pedicure, spa manicure, spa facial, Salt Glow, Backial, Mothers to Be, A Day at The Point Lash & Brow Tinting, Body Wraps, Aromatic Body Wrap, French manicure and many more >>


Explore all the activities at the resort and in the surrounding areas on this page.
Ready to come visit? Contact us.