Hiking at Cultus Lake and surrounding areas
There are many exceptional hiking trails in and around Cultus Lake, Chilliwack and the surrounding areas. There are five main trails for you to enjoy and admire the wonders of nature:
Teapot Hill Trail is located near the Honeymoon Bay group site. There are some steep sections making this trail moderately difficult. This trail is a 5 km round trip (2 hours) viewing Cultus Lake and Columbia Valley. The Teapot Hill trail is one of the most popular trails located next to Cultus Lake (short walk from the resort) and offers a short hike uphill with a view of the lake. Park in the Teapot Hill parking lot and start the hike, heading uphill. After 100m, there is an outhouse and park map on your left. Continue heading up the service road, passing by a stream and groves of mixed deciduous and coniferous trees. After about 20-30 minutes, a sign will be posted that points to Teapot Hill off to the right. Continue along this path passing a sign that describes the area flowers that include Stinging Nettle, Western Columbine, Tiger Lily, and Trillium. A steep hill is an indicator that you are almost there. After ascending the hill, the trail levels out and you come to the first view of Cultus Lake. Stop to take it in briefly before continuing along the trail for another 100m to the second viewpoint that overlooks the lake and Columbia Valley towards the USA. Stop to have a break here or make your way back to the previous viewpoint before descending back down the hill towards the parking lot.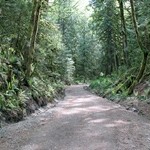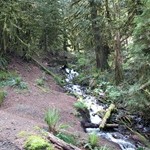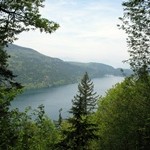 Seven Sisters Trail connects Entrance Bay and Clear Creek Campgrounds. Along the trail, stands a group of large Douglas-fir trees, once numbering seven (2 hours return).

Cultus Lake Horse Trail is 20 km round trip (5 hours), traveling from Edmeston Road to Watt Creek, which joins the north and south ends of the park.

Giant Douglas-fir Trail begins 150 metres west of Delta Grove campground. The walk leads to this forest goliath and also connects with Clear Creek campground (45 minute return walk).

Maple Bay Trail starts near the day-use parking lot and provides a self-guiding interpretive stroll past some of the park's natural wonders (30 minutes).
For your own safety and the preservation of the park, obey posted signs and keep to designated trails. Shortcutting trails destroys plant life and soil structure.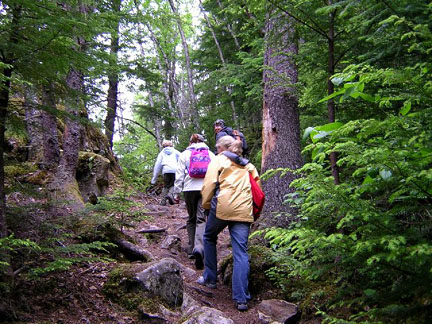 Picnic Areas
There are picnic grounds with tables and garbage containers at Entrance Bay, Maple Bay, and Spring Bay day-use areas. There are parking facilities for 700 vehicles. Change houses are located at Entrance Bay and Maple Bay. The Spring Bay day-use area is open all year with no services. The available beaches are sandy. Entrance Bay and Maple Bay campgrounds have flush toilets. Spring Bay campground has only pit toilets. Campfires are prohibited. However, some picnic tables have BBQ stands for hibachis. There is a beach area for dogs, but they must remain on leash. There is a gate that is locked between dusk and 8:00 am during which time the day-use area cannot be accessed.

Entrance Bay day use area is open from April 1 to October 8. Maple Bay day use and boat launch open from June 15 to September 3. Watt Creek open from April 1 to October 8. Spring Bay and Tea Pot Hill parking lot are open all year, weather permitting.
Yearly passes are available at the park gatehouse; cash and interac available.
Explore all the activities at the resort and in the surrounding areas on this page.
Ready to come visit? Contact us.