Dining at Cultus Lake
There are many fine dining and casual dining restaurants to enjoy in the areas in and around Cultus Lake and Chilliwack. Below is a list of many of these restaurants in Cultus lake.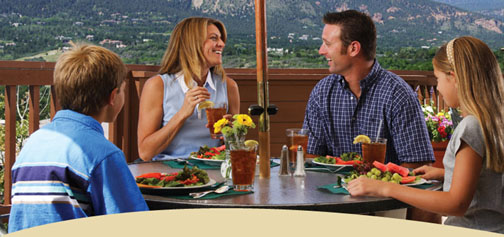 South side of Cultus Lake
Aquadel Golf Course (Visit Website)
(604) 858-6896, 1859 Columbia Valley Highway
Open for breakfast, lunch and dinner. "Comfortable", is the word that best describes Aquadel's restaurant. Friendly staff, comfortable booths and chairs, excellent food and spectacular views all make Aquadel a great choice for a meal. Aquadel's 140 seat restaurant has three very different sections to it, all with great views.


North side of Cultus Lake
Cafe Vanilla (Visit Website)
604 858-6241, #8-4125 Columbia Valley Highway
Offers a wide variety of beverages (lattes - espresso - gourmet teas) and top of the line gelato ice cream with a minimum of 24 flavours. NOTE: Only open 1000-1600 Thursday to Sunday off season
J Beethoven's Pizza (Visit Website)
604 858-7766, #9-4125 Columbia Valley Highway
'One of the three best pizzas in the Lower Mainland'. The Province. Offers salads, appy's pasta and pizza. Note: Only open Wednesday to Sunday 4pm-8pm off season
Legends Bistro at Cultus Lake Golf and Country Club (Visit Website)
604-858-9902, 'Fore' Thousand Columbia Valley Highway
Open for breakfast, lunch and dinner. Legends offers a casual dining experience while enjoying the surrounding grounds of Cultus Lake Golf Club and Tap-ins putting course. You do not need to be a golfer to enjoy Legends Bistro. It is open to the public and hosts private parties and banquets all year round.
Pala Lago Restaurant (Visit Website)
604 858-7263, 4131 Columbia Highway
Offering lunch (11am-4pm) and dinner. An upscale bistro offering classic and contemporary food at affordable prices. With live entertainment and a unique location. This is the perfect spot for your next social gathering or intimate dining experience.
Quirky Bird Café
604 858 9100, 4125 Columbia Valley Highway
Winter/Spring Hours: Wed- Sun. 9:00am- 3:00pm
Summer Hours: Mon. – Sun. 8:00am- 4:00pm
A local favourite for something to eat. - always fresh 'home-style' cooked meals.
Cultus Café
4131 Columbia Valley Highway
Cultus Lake Pub
604 858-5615
3696 Columbia Valley Highway
Global Restaurant
604 858-7088
3-4125 Columbia Valley Highway
Hermie's Bistro
604 858-6065
# 6 - 4125 Columbia Valley Rd
Kell-Erny's Drive Inn
604 858-4813
35 Sunnyside Ave
Kev's Coffeehouse
604 858-5578
#8 - 4125 Columbia Valley Highway
New Orient Restaurant
604 858-7088
#3 - 4125 Columbia Valley Rd
Sora Sushi and Teriyaki
604 847 9121
4125 Columbia Valley Road
The New York Corned Beef Connection
604 858-5104
In addition to the above dining options located at Cultus Lake there are many more choices (Macdonalds, Subway, Quiznos, Tim Hortons, Starbucks, etc) located in Chilliwack, fifteen minutes drive away.
Explore all the activities at the resort and in the surrounding areas on this page.
Ready to come visit? Contact us.